First and foremost: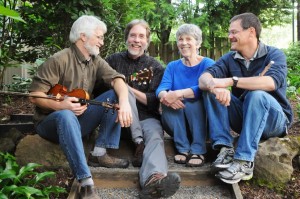 All Portland ECD and Contra dances require proof of Covid-19 vaccination before being allowed into the dance hall.  Click HERE for Covid protocol details.
The November 3 dance has been cancelled.  On December 1 Joyride will host a concert of dance music.  Details of the event are HERE and include registration/attendance and Covid protocols.  We're looking forward to seeing you on December 1 and we're hopeful to dance on January 5.  

Joyride is a Portland Oregon contra dance band known for fun, skilled play, tunes fit to dance figures, and ringing, rocking, gorgeous melodies that make you want to move. George Penk's rich and lively fiddle, Erik Weberg's nimble flute, harmonica and bombarde, Sue Songer's pulsing piano, and Jeff Kerssen-Griep's percussive guitar energy breathe big life into modern and traditional tunes for dances, weekends, and festivals. 
Since 2006, Joyride hosts great callers and happy dancers at their monthly First Wednesdays Contra Dance party, held at the Portland Polish Library Association's dance hall each September through June. This band loves creating a great experience for everyone, every time. Catch a lift with Joyride at home or on the road!
Please see our post-pandemic dance reentry page HERE.